Limehouse Library Hotel
"Travel is the only thing you buy that makes you rich. And travelling through history will make you even richer"
The Limehouse Library Hotel, the partner hotel of Docklands Academy London, recently welcomed its first guests. As a bridge between history and present at the heart of London, Limehouse Library Hotel offers many amenities to its guests and with the partnership of Docklands Academy London potential students will have the opportunity to study and even work there with Culinary Arts Academy.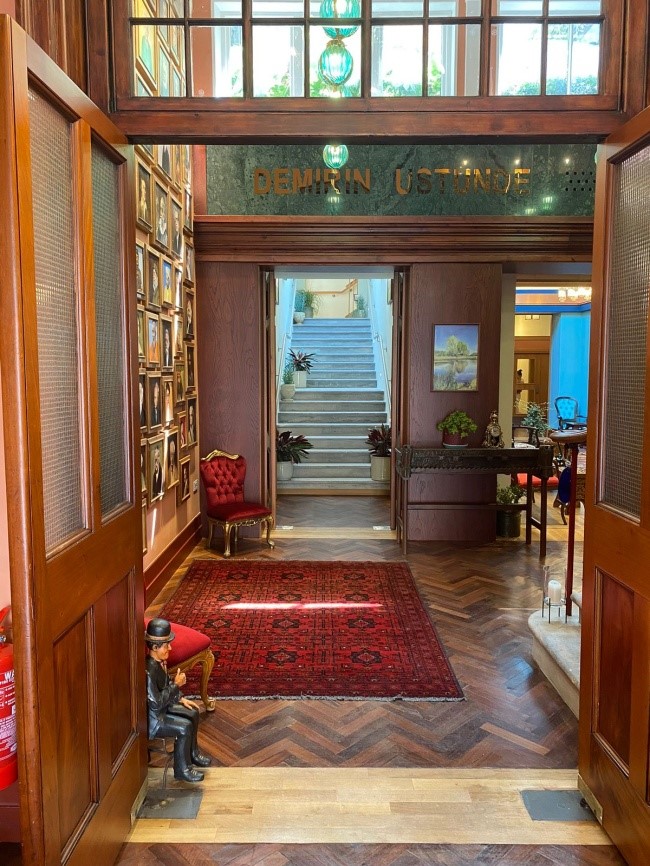 Limehouse Library, opened its gates as a public library 121 years ago. This historical building was closed in 2003 and it is now at its soft opening stage as Limehouse Library hotel, which is the latest addition to our partner group. As a boutique hotel, it has 75 delightful rooms, all designed differently, each dedicated to a person or a
place in history that somehow changed the history and made a difference.
When you first enter to the hotel, a wall decorated with portraits of people who inspired Limehouse Library Hotel's 75 rooms welcomes you with a warm atmosphere.
Charles Darwin, the great leader Mustafa Kemal Ataturk, Spinoza, Mary Shelly, Che Guevera, Jane Austen, Ada Lovelace and many others… who had a significant role in the history and who still their has fingerprints on the modern society today… They all have a room at Limehouse Library Hotel and they all have their portraits hanging on the welcoming wall.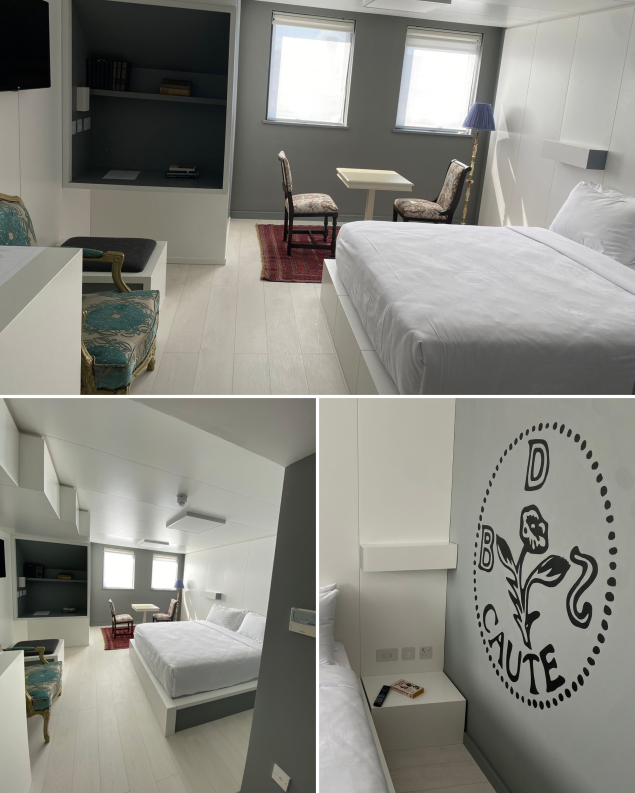 The room inspired after philosopher Baruch Spinoza
The rooms, each named after a historical figure or event, are individually unique and tell a different story on their own. While some of them draw you into history, others enchant you with their phrases or illusions. From start to finish, every aspects have been considered, including custom-made furniture, antiques, and oriental rugs from place to place, resulting in a magnificent place to stay.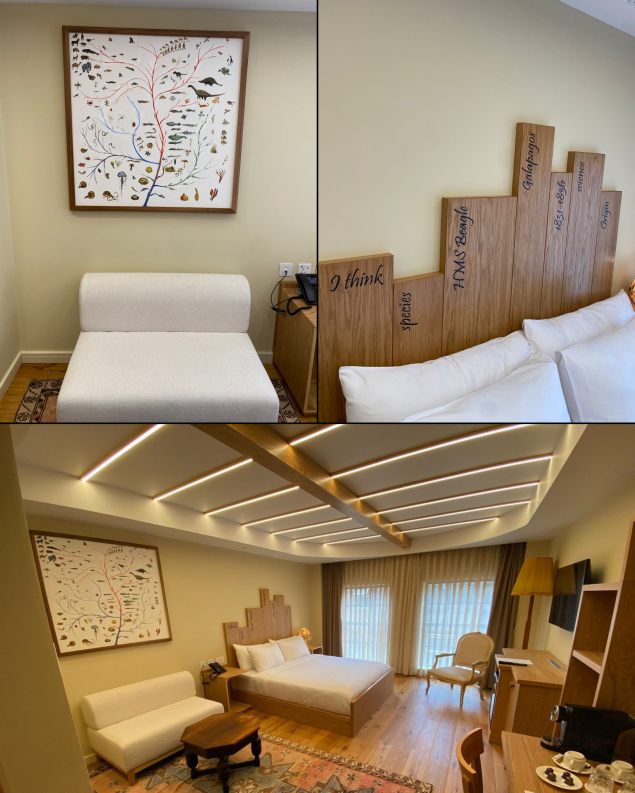 The Room inspired by Charles Darwin, the famous evolutionary biologist
Karagöz and Hacivat: characters from traditional Turkish shadow play, also inspired a room in the Limehouse Library Hotel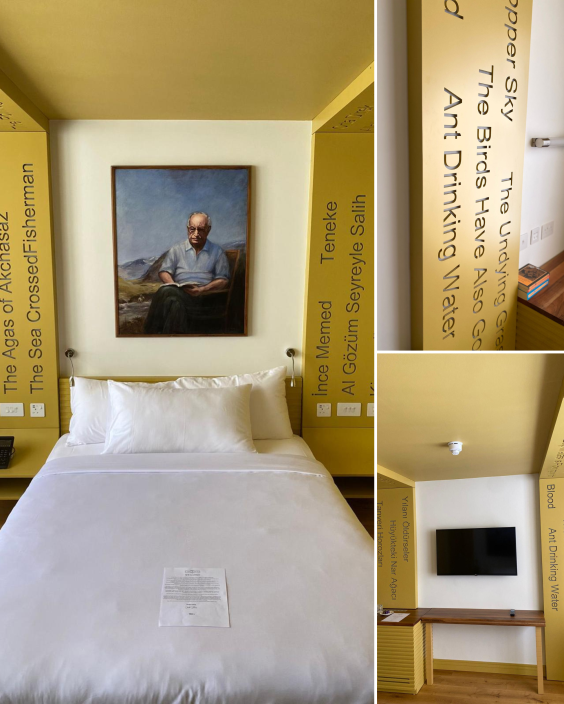 The Room inspired by Yasar Kemal, the famous Turkish author
The Room inspired by Jane Austen, the famous English Author
The room inspired after Eastern Express
The room inspired by Mevlana, poet and Islamic Scholar

The room inspired by Leonardo Da Vinci
Venues and conference rooms of the Limehouse Library Hotel can accommodate 5 to 200 people. With a restaurant, bakery, rooftop bar, terrace bar with potted plants and a stylishly arranged green and pleasant area, as well as a health centre with a spa, Turkish hamam, and sauna, the hotel will welcome its guests. After a long day of sightseeing in London, these areas are perfect for relaxing with a massage, drinking a cocktail, or having a cup of tea. They are planned to open to the public as well as the guests on 31st of August 2022.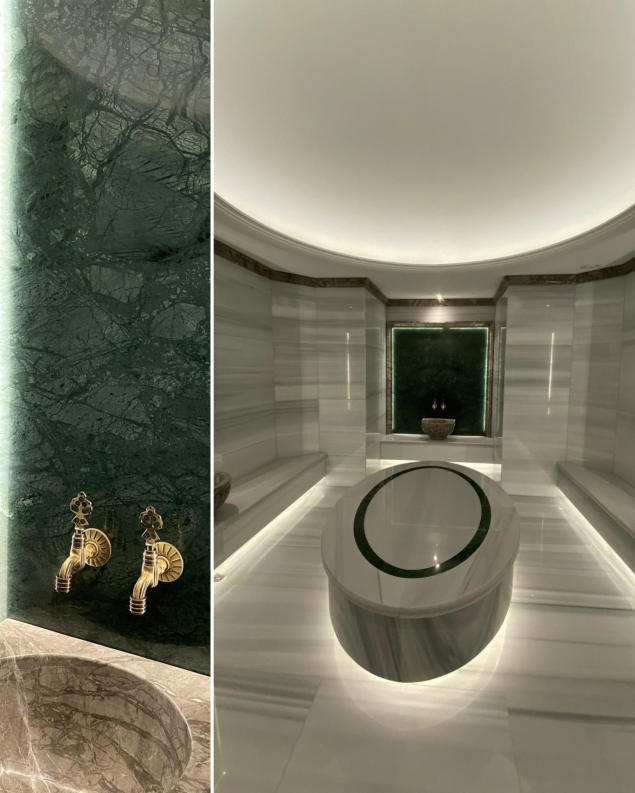 THE CULINARY ARTS AND HOSPITALITY MANAGEMENT ACADEMY
"IN LIMEHOUSE LIBRARY HOTEL "
The culinary training kitchen
With a fully equipped kitchen for students, the hotel is offering a Culinary Arts and Hospitality Management Academy in partnership with Docklands Academy London. With this programme, the students who succesfully completed their courses will have the opportunity to work in the industry as people who are well-prepared and well-educated. Not only that, but one of the main goals is to bring well-trained individuals with a vast knowledge about culinary arts, culinary wellness and sanitation into the industry.
This programme aims to reward its students with Culinary skills, business and management knowledge with innovation.
The Limehouse Library Hotel is the ideal place to begin your study of culinary arts because of its competent educators, practical opportunities to get real-world industry experience, and fully equipped training kitchen that can accommodate 22 students at once. Because the quality of the education and training provided will be of a higher quality than any other, the program's standards and the lecturers' expectations of the students are quite strict and high.