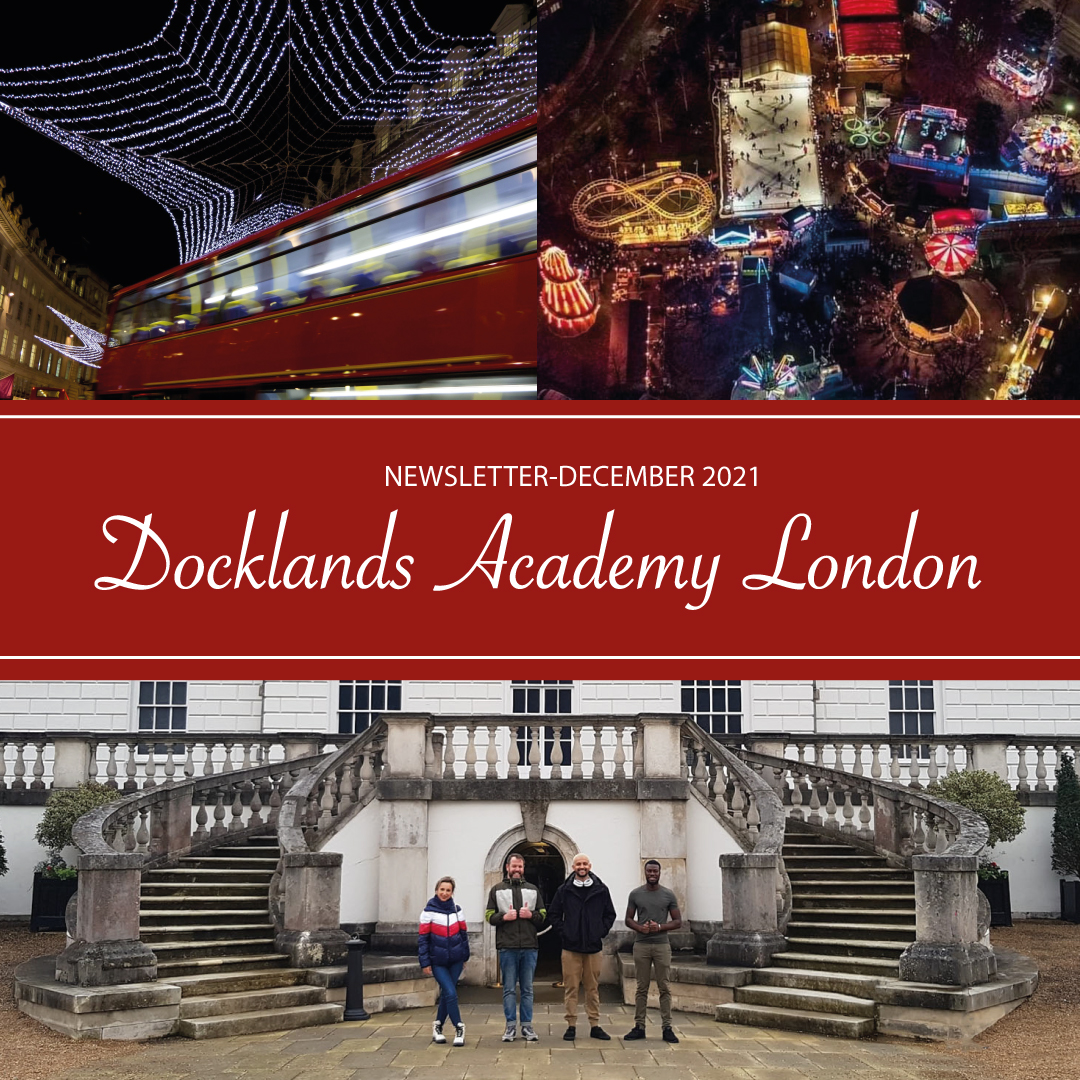 Docklands Academy December 2021 Newsletter
New rules in response to Omicron variant [England]
You must wear a face covering in shops and on public transport. Face coverings should be worn in communal areas of universities, colleges and schools by staff, visitors and pupils or students in year 7 and above.
If you're travelling to England from abroad you must take a PCR test before the end of day 2 following your arrival and self-isolate until you get a negative test result, even if you're fully vaccinated.
If you're a contact of someone who may have been infected with the Omicron variant, you must self-isolate for 10 days, regardless of your age, vaccination status or any negative test results.
As Christmas approaches, the English provision at Docklands Academy is in full swing. Our face to face classes are growing as students arrive from nations all over the world for our unique, communicative provision. Students from Bangladesh, Italy, France, Russia, Brazil and Algeria are all sharing their cultural knowledge and experiences, while absorbing the wonderful culture and heritage London has to offer. Students have been wowed by recent trips to Greenwich, the Queen's House, the Victoria and Albert Museum and the Sir John Soane Museum. Come and see us and find out what treasures we can discover together!
As we approach the end of the semester, we continue to deliver our Business and Travel and Tourism courses. Despite the challenges of teaching in 2021, teachers have kept students engaged with a wide variety of blended learning activities and approaches, ranging from flipped classrooms to student-led debates in Zoom breakout rooms. We are grateful to students for their perseverance and adaptability during this period, and we have been delighted to see such enthusiasm in our on site and online classes from students.
We'd like to congratulate all of the students who received their HNC certificates this month. All of their hard work has paid off, and we are extremely proud of their achievements.
4th SME4Labour gala and Labour Excellence Awards
Docklands Academy London attended the 4th SME4Labour gala and Labour Excellence Awards held at Park Plaza Westminster Bridge Ballroom. The program was organized to give recognition to the work carried out by innovative small and medium-sized enterprises (SMEs).
V&A Museum
Our ITTM class visited the V&A museum in South Kensington on their field trip. It was a very fun and enjoyable trip where student learned about the art and culture of various countries.
Greenwich
Our English Language students had a great time touring Greenwich and the Queen's House. They were ecstatic to learn about different parts of London and historical landmarks.
London's first pay-what-you-like Christmas Tour! This tour will take you down some of the cities' most iconic streets to see world-famous Christmas lights and holiday displays.
Beginning at Covent Garden, your guide will lead you underneath sparkling lights, hanging wreaths, past stunning Christmas trees and romantic mistletoe. You'll learn some of Britain's holiday traditions, as well as how and why they became so popular. Find out what a Pantomime is, why the Puritans hated Christmas, and why we have Prince Albert to thank for our obsession with holiday lights!
Whether it's your first visit to the Gallery or you're eager to explore the collection in a new way, the Friday Late events are an opportunity to connect with art from the past and the present in a magical night time setting.
This month, there will be life drawing sessions inspired by current exhibition 'Poussin and the Dance', a conversation with contemporary artist Kehinde Wiley on the occasion of his new work at the National Gallery, and informal and informative talks led by the brilliant and knowledgable Gallery Educators.
Follow the lights to Hyde Park and immerse yourself in the festive atmosphere of Winter Wonderland, one of the biggest Christmas markets in London. Discover more than 100 wooden cabins overflowing with fantastic gifts, including handmade crafts and beautiful pieces of jewellery. You can also get your skates on at the UK's biggest outdoor ice rink, see London sparkle from the Giant Observation Wheel, or sit back and enjoy one of Winter Wonderland's top Christmas shows.
Docklands Academy London

Contact
+44 (0) 20 7515 9695
If you would like to opt out from the newsletter subscription, please click Unsubscribe Me.