Docklands Acedemy February Newsletter
Graduates February 2021
The best way to predict the future is to create it! Congratulations to all the graduates. We wish you all the best in the future. Hope you all continue to do amazing things in life.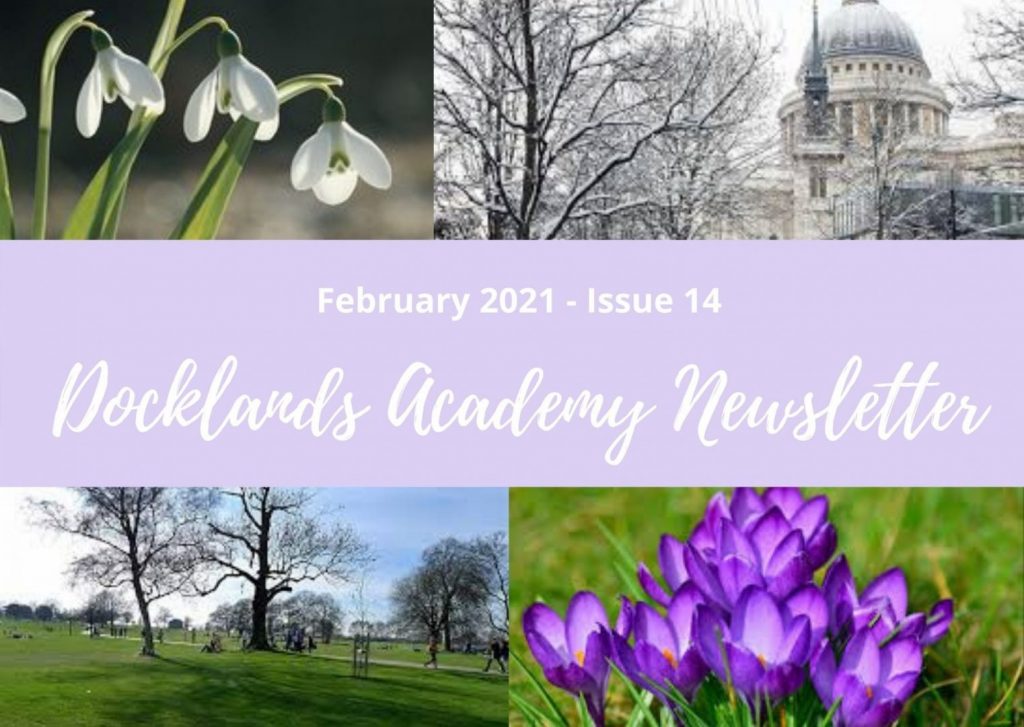 Higher Education
The fifth week of the semester is now underway, with new students settling in well and returning students taking their new courses in their stride. Classes are continuing online due to the pandemic. Flipped classrooms, activities in breakout rooms, quizzes and peer-led discussions remain a fundamental part of our blended learning programs – who said online need to dull?
The British Accreditation Council (BAC), of which Docklands Academy London is accredited by, held their annual Stakeholder Event last week. The huge challenges of the last year were discussed, and the subsequent outstanding progress that has been made to meet them using online learning. One speaker purported that 3 years progress had been made in under 1 year. Although, these have been tough times for students, teachers and colleges alike, there is much that the Higher Education sector has learnt and can carry on developing into the future.  Another hot topic was the changes in visa applications in light of Brexit. The good news is that EEA nationals will not need to apply for a visa if they want to study for under 6 months at an accredited institution; they are classed as visitors in this scenario and can even study multiple courses if they wish. You can check if you need a visa by going to https://www.gov.uk/check-uk-visa
English
All classes continue online under the current national lockdown. We are currently running group General English and IELTS classes, and one-to-one lessons designed exclusively for students. The popularity of our online lessons continues to rise. Let the students speak for themselves!
"I would like to say thank you for an opportunity to study English online in this hard time. everything was clear. We can study both speaking and grammar. Zoom gives us opportunities to share the screen and write something during a lesson!" Tanya, Belarus (previous face-to-face student).
"To be honest I was scared at the beginning when I heard that we will do online lessons, but now what I can honestly say is that it is amazing!" Tina, Russia
To see the latest special offers, go to:
 https://docklandsacademy.co.uk/online-courses#price-list-online
What to Do in Lockdown London this Month: Discover London's Blue Plaques
Need a new way to spend you daily exercise? Perhaps you have noticed the occasional blue plaque on buildings around London. London's famous blue plaques link the people of the past with the buildings of the present. Now run by English Heritage, the London blue plaques scheme was started in 1866 and is thought to be the oldest of its kind in the world.
Across the capital over 950 plaques, on buildings humble and grand, honour the notable men and women who have lived or worked in them. Design your own tour of the latest additions by checking out English Heritage's blue plaque site . You don't even need to venture into central London as you can search by your local borough.
Covid-19 Update
We are still under full national lockdown. This means people must stay at home, unless absolutely necessary. Permitted reasons to leave the house include getting essential items, such as food or medical supplies. Schools have been closed, with learning to continue online. People are permitted to go outside for exercise once a day, and can only meet one person from another household for exercise, making sure that they maintain social distance. For a more extensive outline of the restrictions go to https://www.gov.uk/guidance/national-lockdown-stay-at-home
It's not all bad news: Vaccination has begun in the UK, at time of writing (0.1.02.2021) 13.4% of the population has received the first dose!