July Newsletter
Summer is in full swing here in London, but we're keeping cool with our English programme this month. General English classes are progressing well and the sunshine means lots of opportunities to venture out of the classroom to experience London at its finest in this splendid weather. Our IELTS class is filling up with students from Mexico and Algeria looking to improve their academic English skills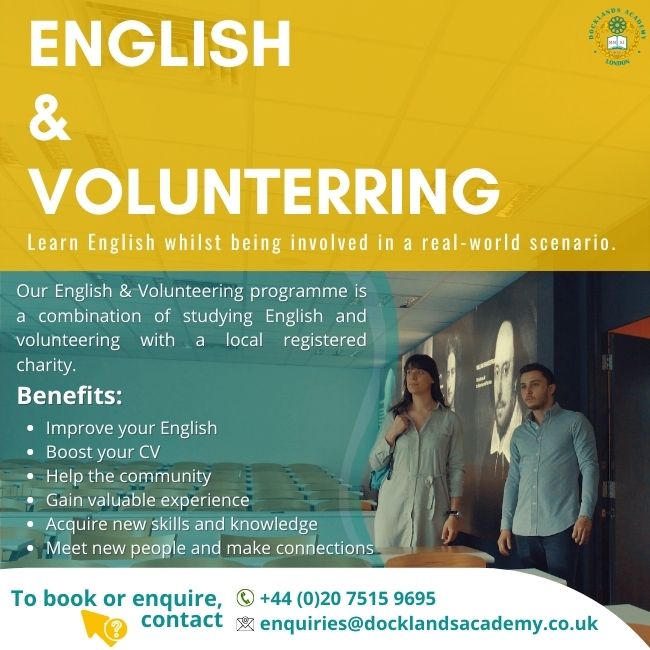 Summer is in full swing here in London, but we're keeping cool with our English programme this month. General English classes are progressing well and the sunshine means lots of opportunities to venture out of the classroom to experience London at its finest in this splendid weather. Our IELTS class is filling up with students from Mexico and Algeria looking to improve their academic English skills, while our online provision keeps students all around the globe pushing the barriers of their English abilities with our bespoke, one to one classes.
Our ITTM and Hospitality Management classes began in May 2022. This summer semester is going on full speed ahead and the students are achieving their goals of learning, studying and sharpening their skills for their respective aims. This semester will be on-going till the end of July 2022. Docklands Academy London is now associated with RefuAid where we believe in making a real social impact.
RefuAid support access to language tuition, education, finance and meaningful employment.
Our intern Mushrif has successfully completed his internship with us at Docklands Academy London. Thank you for your hard work and contributions. We wish you all the success in your careers ahead!
We held certification ceremonies to all our Algerian students that finished their General English programme in Docklands Academy London.
It was absolutely amazing to have all of you. We, as DAL staff also learnt a lot about the beauty of Algeria and its culture. We hope you all had an enjoyable and informative time here at DAL and London.
English Course for Specific Skills
We had more of our Higher Education graduates collect their certificates. Congratulations to all of you and we wish you all a brighter future ahead.
Please keep an eye out for our soon-to-be-launched Alumni page, which will provide you with easy access to updates on benefits and future study and employment opportunities.