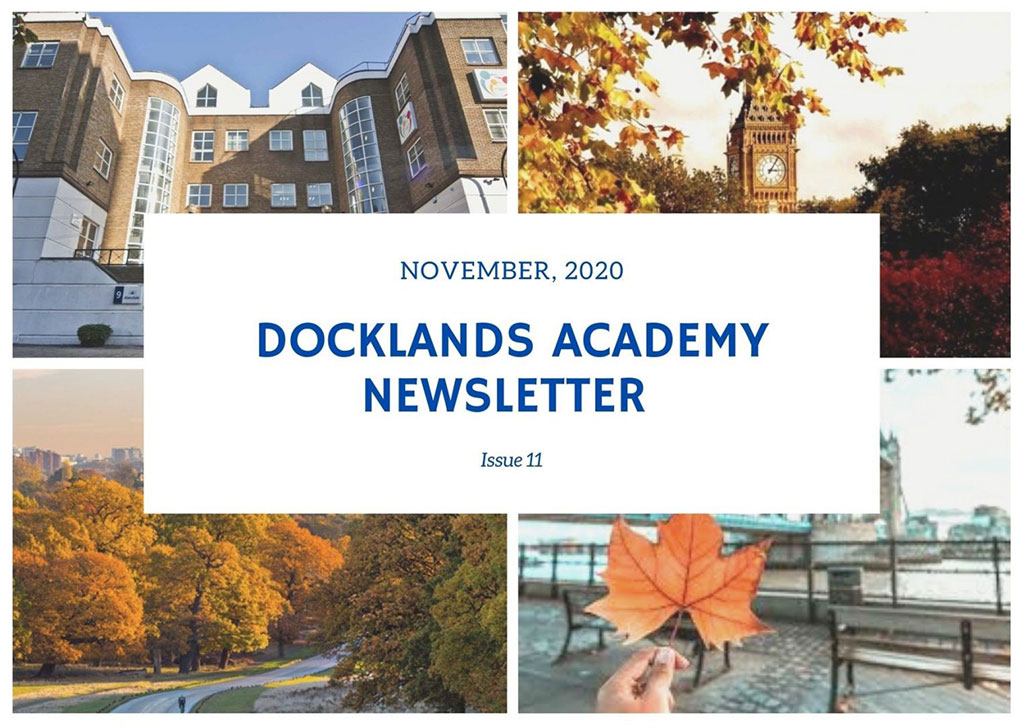 Docklands Academy November Newsletter
Higher Education
Lessons have been continuing online. This week saw some lively debates in breakout rooms in the Business and the Business Environment class, proving that you don't need to be face to face to get a good discussion going!
We are proud to see our older students collecting their certificates in the recent weeks.  We wish them every success in the next chapter of their journey and thank them for the time they have spent with us.
A note on semester dates: please note our May 19 and Oct 19 cohorts, which are due to commence their HND's, are expected to do so in Jan 21.
Black History Month
This year's Black History Month was celebrated throughout the world, and although the pandemic may have put physical limitations on some of the planned activities, Londoners were still able to take-part in exhibitions and talks. The museum of London was one such example with excellent tours.  London's Mayor, Sadiq Khan, sent a message to praise and highlight the huge contributions black communities have made on our City. In addition, if you missed events this month check out this series of Ted talks.
Halloween
As per new government restrictions, it's unlikely there will be lots of knocking door-to-door for sweets or trick or treating this year. Halloween isn't cancelled—it's just time to get creative!
A rather spooky treasure hunt
If you're stuck in the house, there's nothing more entertaining and exploratory than a treasure hunt! Draw up some clues you for your kids, or get them to write their own, and get cracking with your very own spooky Halloween hunt!

Whip up some scary edible masterpieces
Why not get your trick or treaters in the kitchen to stir up some (tasty) magic? Little monsters of any age can benefit from spending time in the kitchen.
One idea? Task them with creating faces on their morning Dracula Buttermilk Pancakes for example!
English
We are glad to announce that we have opened a face to face IELTS class. Meanwhile our General English face to face classes continues, whilst our online classes go from strength to strength.  This month online classes included support for University applications assignments and personal statements for UCAS, as well as bespoke speaking classes.
Paul ventured out with students to the V & A, The British Museum and St James's Park. Although, the crowds are thinner in central London than before the pandemic the wildlife certainly isn't socially distancing!
COVID – New Lockdown Rules
From Thursday 5 November until Wednesday 2 December, you must:
Stay at home, except for specific purposes.
Avoid meeting people you do not live with, except for specific purposes.
Close certain businesses and venues.
These new measures will reduce the growth rate of the virus, which will:
prevent the NHS from being overwhelmed
ensure schools, colleges and universities can stay open
ensure that as many people as possible can continue to work
The new measures will apply nationally for four weeks up to Wednesday 2 December.
Schools and colleges are permitted to remain open. The College will remain operational with all Higher Educational classes continuing online, and English split between online and (socially distanced) face to face classes.